Daniel Awigra
Program Manager, ASEAN Human Rights Advocacy in Human Rights Working Group; Indonesia's NGO Coalition for International Human Rights Advocacy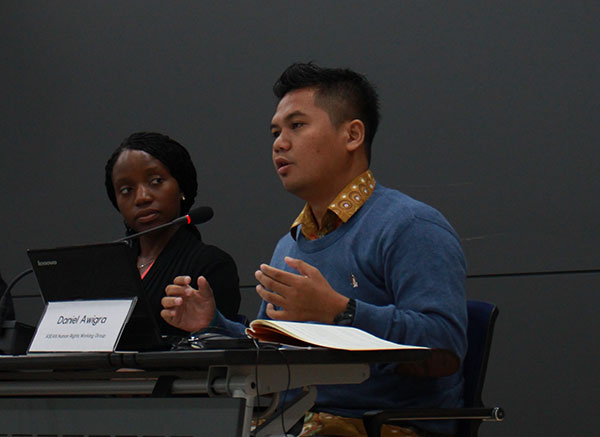 In the last two years, international community has made significant engagement to the issue related human rights violation in the Democratic People's Republic of Korea (DPRK). The commission of inquiry (COI) which established by UN Human Rights Council concluded that on-going patterns of systematic and widespread human rights violations in the DPRK have been constituted as high threshold required for crimes against humanity under the international law. The commission further finds that crimes against humanity are ongoing in the DPRK because the policies, institutions and patterns of impunity that lie at their heart remain in place.
On December 2014, the General Assembly adopted –with overwhelming majority- a landmark resolution on the situation of human rights in the DPRK, including a possible referral of this situation to the International Criminal Court.
The recent development of human rights crisis in North Korea creates new dynamic in East Asia.
In East Asia during Cold World's era the real war happened here (Korean's and Vietnam's war). But within East Asia; Southeast and Northeast Asia have different history in dealing with the Cold War's effects. Southeast Asia countries have made a sub-regional architecture forum, named ASEAN. However, Northeast Asia has failed building any sub-regional institution.
Northeast Asia is still under the Cold War's shadow especially on the tension between North and South Korea crisis, Taiwan straits problem, and the rivalry between Japan and China. Despite these problems, Northeast Asia contributes the world's fastest growing regions, especially the economic miracle of China, Japan as well as South Korea.
ASEAN performs success in maintaining peace, security and stability in the region, even though the ASEAN Member States (AMS) have very diverse nature of politics; ranging from democratic and or semi-democratic country while others are still under authoritarian rule, monarchic and military. Having peace and stability in the region, ASEAN pulls into greater cooperation with some major actors in Asia Pacific, and other world players in the area of politic and security, economic, energy, and technology in many platforms like a centre for multilateral integration, responsible for initiating the ASEAN Regional Forum (ARF), the East Asia Summit, the Asia-Europe Meeting (AEM), and the ASEAN+3 involving China, Japan and South Korea.
The real sign of initiative in promoting peace and security in order to achieve prosperity on East Asia comes from ASEAN. ASEAN contributes at least in three important aspects consists of the building of ASEAN Economic Community (AEC), ARF and human rights cooperation.
This paper attempts to analyze how ASEAN could contribute to the prospect and the development of human rights not only within ASEAN but also abroad, particularly in dealing with human rights crisis on North Korea.
AEC, ARF and ASEAN Human Rights Mechanism
ASEAN is moving towards an integrated ASEAN Community by 2015. Now ASEAN is forming the ASEAN Post-2015 Visions. It is the guidance and plan of actions to be used by ASEAN and its stakeholder to achieve the goal of ASEAN Community for the next ten years (2016-2025). The ASEAN Post-2015 Visions is also a diplomatic and dialogue tools for ASEAN to generate commitments and a broad spectrum of cooperation among ASEAN Member States to improve the situation on human rights, the status of gender equality and developmental justice in the region.
One of the pillars of ASEAN Community is AEC. AEC in 2015 has been signed by 10 ASEAN countries at the 13th ASEAN summit on November 2007 in Singapore. The purpose of AEC is to achieve regional economic integration so that ASEAN becomes a single market and production area. There are 5 pillars reinforcement performed from the economic side, which are; the free flow of goods, services, investment, skilled labor and more freely capital flows. All of these pillars are implemented gradually in accordance with the strategic schedule which has been agreed together. In general, since 2008 AEC has gradually liberalized each pillar. The stages are monitored by the ASEAN mechanism scorecard.
In the politic and security cooperation, since 1994, ASEAN launched the ASEAN Regional Forum (ARF). ARF has a vision; promoting peace and security through dialogue and cooperation in the Asia Pacific. The ARF is the only multilateral security platform which North Korea is a member of.
ASEAN can help to manage tensions not only for the Cold-War hangover on the Korean Peninsula, but also among the Northeast Asian countries. However, three members of the ARF –Myanmar, Vietnam and Laos– voted against the recent UN resolution condemning North Korean human rights violations, and this should remind South Korea of the importance of securing ASEAN's support on North Korean issues.
The arrival of the ASEAN Intergovernmental Commission on Human Rights (AICHR) in 2009 and ASEAN Commission on the Promotion and Protection of the Rights of Women and Children (ACWC) on 2010 marked a shift in ASEAN towards a regional integration that was about more than just economic growth. On 2012, the adoption of the ASEAN Human Rights Declaration (AHRD) can be read as the political commitment of ASEAN member states to uphold human rights.
However, AICHR's Terms of Reference (TOR) is not equipped with strong mandate to protect human rights. It is rather a consultative and advisory body with a strong hold on non-interference towards domestic human rights situations. The AICHR lacks credibility and its Representatives are answerable to their appointing government rather than functioning as independent commissioners.
Each member states deals with a number of cross-border human rights issues, such as trafficking in persons, migrant workers, refugees, and people smuggling. Moreover, ASEAN has also deal with the its own domestic human rights issue like; enforced disappearances, freedom of __EXPRESSION__, violence against journalists and human rights defenders, widespread impunity, freedom of religion, sexually minorities, etc.
After five (5) years since its establishment on 2009, there is no one explicit and formal statement coming from AICHR related to human rights violations that already happened in ASEAN and beyond. Even, for the recent case that has just happened like the military coup in Thailand, humanitarian crisis in Myanmar, the disappearance of Lao's activist, etc.
In terms of having international cooperation on human rights, AICHR has mandate as stated in the ToR mandate 4.9: "To consult, as may be appropriate, with other national, regional and international institutions and entities concerned with the promotion and protection of human rights." This mandate can be operate by do some activity like conduct study visit to other regional HRs mechs, participate in regional and international events on HRs, jointly organise events with other regional and international HRs mechanisms, meeting with other HRs mechanism and entities, share best practices on the implementation of HRs with other HRs mechanism.
Moreover, AHRD article 39 stated: "AMS share a common interest in and commitment to the promotion and protection of human rights and fundamental freedoms which shall be achieved through, inter alia, cooperation with one another as well as with relevant national institutions/organisations, in accordance with the ASEAN Charter".
Vice Foreign Minister Ri Kil-song led a delegation to visit seven Southeast Asian countries starting on January 22 this year, as reported by North Korea's state-run KCNA news agency. The delegation is expected to visit Vietnam, Laos, Cambodia, Myanmar, Singapore, Indonesia and Malaysia. Cambodia and Malaysia are the two new stops added to the itinerary since Foreign Minister Ri Su-yong led a delegation to the region last August. During the last visit, Ri Su-yong discussed economic and military cooperation with his counterparts.
Like China, Japan, and the US, North Korea is looking toward Southeast Asia — but with a different goal in mind. Instead, North Korea approaches Southeast Asia is as an equal or even a "little brother." Just like Japan and China, North Korea sees economic opportunities in Southeast Asia. While the emphasis on the political dimension of Japan and China's aid is apt because of the sheer scale of what these two major economies can offer, analysis of North Korea's relations with Southeast Asia should shed this geopolitical frame and focus more on the matter at hand: economic profits.
North Korea has strong ASEAN ties extend to the five countries in ASEAN. North Korea has longstanding ties to the Myanmar Junta. Although Myanmarese leaders have claimed to have significantly reduced ties to North Korea as part of their more general reform and opening up, there have been a number of signs that suggest that ties remain stronger than Burma cares to admit.
North Korea also has fairly robust ties to Indonesia. The two sides first established diplomatic ties in 1961, and DPRK founder Kim Il-sung visited Jakarta four years later. The two countries continue to maintain diplomatic relations and have embassies in each other's capitals. Indonesia also lobbied strongly for Pyongyang's inclusion in the ARF. Just last year, Indonesian Foreign Minister Marty Natalegawa spent three days in North Korea in an effort to position Jakarta to exploit some of the economic changes Kim Jong-Un is introducing in North Korea.
Similarly, Singapore is one of North Korea's largest trading partners and has had political ties with Pyongyang since 1975. High-level exchanges are also a frequent occurrence, and North Korean leaders have at times appeared interested in the Singaporean model of introducing economic reforms without relinquishing political power. Like Indonesia, Singapore undoubtedly seeks to benefit from some of the Kim Jong-Un era reforms such as the special economic zones.
Vietnam and North Korea also have a long history of relations, dating back to the early Cold War. Although economic ties between the two nations have stalled in recent decades, political ties remain robust with frequent senior level visits. Laos and North Korea also maintain a robust political relationship, having first established diplomatic ties in 1974. Moreover, there has been a recent uptick in Lao-North Korean diplomacy. For example, in 2011 Lao President and General Secretary of the People's Revolutionary Party, Choummaly Sayasone, visited North Korea. During that visit, the Lao president met with North Korea's then-heir apparent Kim Jong-Un. Former North Korean military chief Ri Yong-ho also visited Laos in 2012, as did Kim Yong-nam, chairman of the Presidium of the Supreme People's Assembly of North Korea. North Korea values its relationship to Laos because of the nation's communist rule and the fact that it serves as a frequent transit point for North Korean defectors seeking asylum in South Korea.
International community in UN level is trying to find a way to solve on-going human rights violations in DPRK. However, ASEAN –as the citizen of East Asia– can be the significant player that could offer platform in order to improve the human rights situation in North Korea. ASEAN is a valuable intermediary between the Asia-Pacific region and the wider world. It is also because North Korea has strong ASEAN ties with –at least– 5 AMS.
ASEAN has some modalities that can be used as an engagement process with the issue related North Korea. Having experience in managing cooperation with diverse political member backgrounds, ASEAN continues to try in achieving its vision; building a peace, security and prosperity region by launching the integrated ASEAN Community. The ARF continues to be an interesting platform for dealing with North Korea. ASEAN's significance on regional security issues has steadily increased over the past decade. It will be interesting to see how ASEAN – and the ARF specifically – can leverage its growing influence as a security mechanism to address concerns to North Korea.
Even has weak mandate on protecting human rights, AICHR still has authority as stated its mandate on having regional cooperation and in the article 39 AHRD. AICHR can be included as the target of advocacy. AICHR is now in the agenda on reviewing its TOR. As the regional human rights body AICHR can be pushed in conducting thematic study or develop space for the discussion on the human rights, including situation in North Korea.
Both ARF and AICHR can be the tools for confident building process in dealing with the issue of North Korean human rights. It can be the supplement for the engagement process in the UN level.