David Hawk
Author of 'Hidden Gulag' <1>, <2>,
Senior Adviser of Committee for Human Rights in North Korea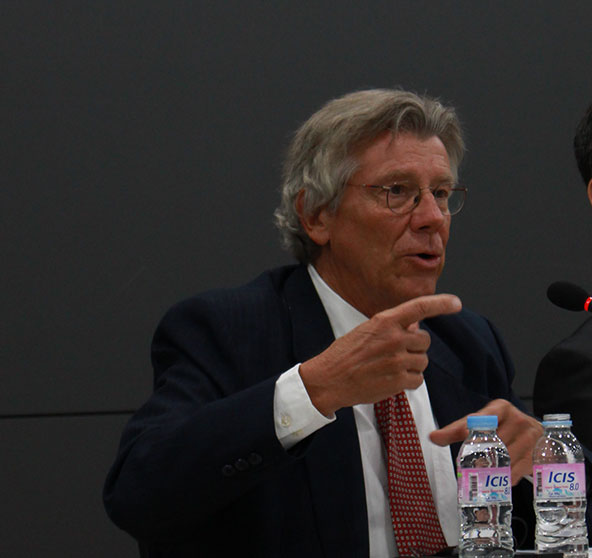 Summary of What Has Happened; how we got to this point.
* 2003 first resolution of NK human rights situation at Human Rights Council
* 2004 appointment of Special Rapporteur
* 2005 NK human rights resolution on agenda of UN General Assembly (every year after, number of supporters at Human Rights Council and General Assembly grew.
* Middle of first decade, 3 analyses of North Korean violations as Crimes Against Humanity (CAH) under contemporary international law.
* 2009 100 former North Koreans wrote to Prosecutor of ICC asking investigation, initiating search for accountability.
* September 2011 ICNK founded in Tokyo
* March 2013, at Human Rights Council (at a time when Russia, China and Cuba had rotated off the Council, passed by consensus well mandated Commission of Inquiry (COI). President of Human Right Council appointed top flight Commissioners; OHCHR appointed top flight staff.
* Feb 2014 COI Report with findings and recommendations including CAH and ICC referral
* March 2014 endorsed by Human Right Council by vote of 30-6-11.
* At GA endorsed by vote 116 – 20 – 53. After defeat of hostile Cuban amendment to delete CAH and ICC provisions, by vote of 77-40-50. (Note on abstentions.)
* 10 UN Security Council (SC) member states wrote to president of SC.
* UN Security Council voted 11-2-2 to place human rights situation in DPRK on standing agenda of Security Council, but China announced it would "not support" any "outcome document" of SC discussion (would include an ICC referral, any SC resolution or Presidential Statement)
Summary of situation at Security Council
* At March 2015 Human Right Council again endorsed findings 27 – 6 - 14) and recommendations of COI
- New Elements: panel at Sept 2015 session of HRCouncil
International Conference at time of 2015 GA (on abductions and enforced disappearances)
Seoul Office of OHCHR, Office of High Commissioner for Human Rights,
Resolution at GA and discussion at Security Council.
Summary of DPRK Responses
* For a decade the DPRK ignored reports of Special Rapporteur and resolutions at Human Rights Council and GA
* Furious DPRK responses to Human Rights Council endorsement of COI findings and recommendations:
- Official Rebuttals via DPRK Human Rights Studies Association;
- Threat of 4th nuclear weapons test and expansion of nuclear arsenal;
- Revised approach to Universal Period Review and hint of cooperation with

Special Rapporteur and High Commissioner's Office;
- Mass rallies in Pyongyang and harsh attacks of Kirby, Darusman and defectors.
Comparison of struggles for human rights in the DPRK with struggles for human rights in southern Africa, the USSSR, and Latin America
* The 1st "long decade" re DPRK, roughly 2000 to 2014.
* The 2 long decades in southern Africa from Sharpsville massacres or imprisonment of Mandela to end of apartheid regime; the 2 long decades from Daniel trial to end of Marxist-Leninist dictatorship in USSR and Eastern Europe; telescoped in southern cone of Latin America because of lost war by Argentina, and Pinochet's mis-conceived referenda.
* Big difference, of course, no internal opposition for outside world to support. For DPRK still only outside pressure.
* But we are now at the beginning of the 2nd decade of movement for human rights in North Korea. Coming vicissitudes (engagement? Negotiations? NK cooperation?)
* But beginning of 2nd decade from position where overwhelming number of governments around the world realize that NK regime is committing numerous crimes against it own citizens, and that human rights situation must be improved if DPRK was respect and normal relations with international community.