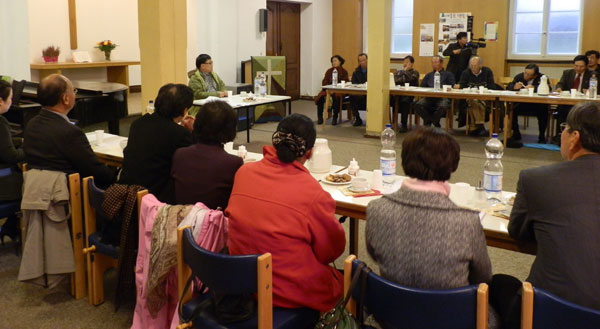 A meeting between Dr. Oh Kil Nam and the Korean-German society in Berlin, October 26th.

Dr. Oh Kil Nam has wrapped up his four-day trip to Germany on October 29th after several interviews with international media, meetings with German politicians and Korean-Germans, a press conference and more. He was accompanied by Kim Tae Jin, the President of Democracy Network against North Korean Gulag (Free NK Gulag) from the 25th to 29th.
In a meeting on the 27th with Markus Löning, the Commissioner for Human Rights Policy of the German Ministry of Foreign Affairs, they got a significant vow from him that he would be willing to visit North Korea in order to facilitate repatriation of Dr. Oh's family to South Korea.
The IGFM (International Society for Human Rights in English) held a press conference for Dr. Oh in the Memorial Library in honor of the Victims of Communism on the same day. Dr. Oh was introduced and he explained how he entered North Korea with his wife and two daughters but left without them, and he urged the German people to pay attention to his family.
At the same place, they met with survivors of former political prison camps of East Germany. Kim Tae Jin and German survivors shared their similar experiences with both criticizing the North Korean regime's crimes against humanity. Erika Steinbach, a German conservative politician and president of the Federation of Expellees, attended the meeting.
Besides such activities, Dr. Oh had several interviews with Financial Times, German national newspaper Die Welt and others, introducing his family story and the current campaign taking place in South Korea.
Meetings were also held with the Korean-German community where Dr. Oh Kil Nam exposed the activities of Yun Isang and Song Du Yul, agents of North Korean espionage department, who have been working targeting South Korean overseas students with pro-Kim Jong Il sentiment.
A protest was also held on the 28th before the North Korean embassy, urging them to send Dr. Oh's family back to South Korea and stop crimes against humanity.
During this visit, Dr. Oh had a chance to visit Kiel where he once lived peacefully with his wife, Shin Suk Jan, and two daughters, Hye Won and Gyu Won, shedding bitter tears of remorse.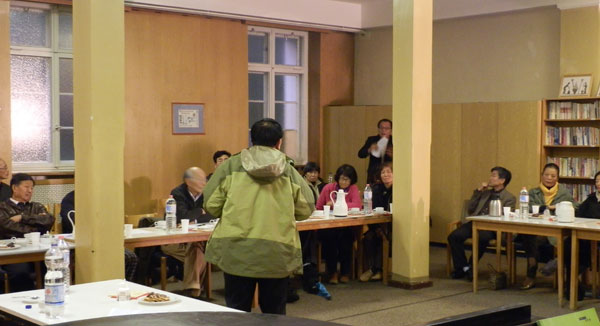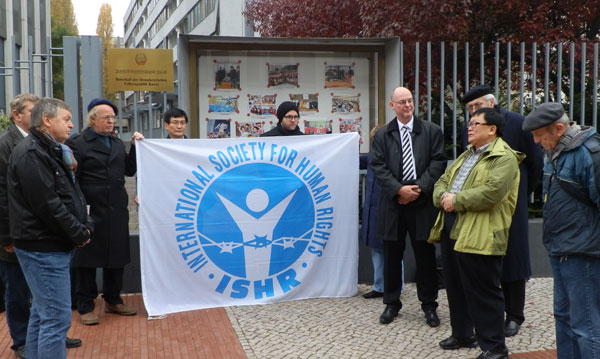 A protest before the North Korean embassy with members of the International Society for Human Rights.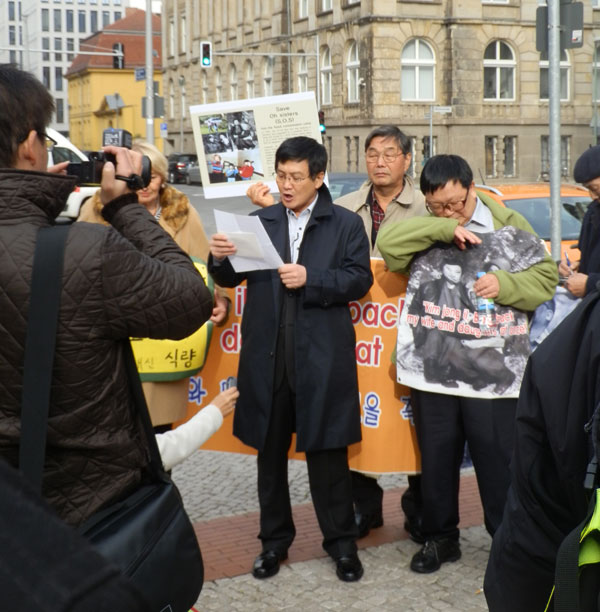 Kim Tae Jin, president of Free NK Gulag, reads a statement denouncing the North Korean
regime's crimes against humanity.